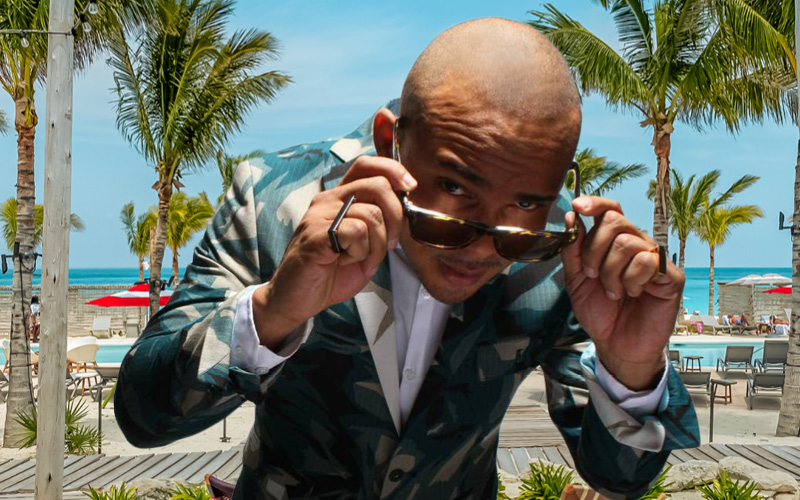 Walshy Fire & DJ Nice Guy Erwin
July 22 - 24
Travel to paradise and party with Walshy Fire plus additional DJ's throughout the afternoon  all weekend long!
Hotel packages start at $549 per person which includes; concert tickets, round-trip transportation, hotel stay, and complimentary entry to Resorts World Bimini Beach.
Make a day trip? Purchase your concert tickets for $22 plus fees.
Walshy Fire is performing on Saturday, July 23 at 2:30pm.
DJ Nice Guy Erwin is performing at Bimini Beach;
Friday, July 22 – 2pm – 6pm
Saturday, July 23 – 12pm – 5pm (before and after Walshy Fire's performance)
Sunday, July 24 – 12pm – 4pm
An MC and selector who injected extra authenticity into Diplo's dancehall project Major Lazer, Walshy Fire was born Leighton Paul Walsh, and is the younger brother of Jamaican Cricket legend Courtney Walsh. Born in Miami but raised in Jamaica, he first ran a sound system in Atlanta. Then joined the world famous Black Chiney Sound System as a DJ and MC in 2003. In 2011 he joined Diplo's Major Lazer project and appeared on the group's albums "Free the Universe", "Peace is the Mission", and "Music is the Weapon. Over the years he produced classic songs as a solo artist, and is credited as one of the people who launch sounds like Afro Soul and Future Dancehall to the world. In 2019 he dropped his first solo album "ABENG" and is anticipating his second album to drop this year.
BUY TICKETS
2 Night Stay
All taxes included Prices based on double occupancy Resort Fee and meals are not included Package prices are based on one room All sales are final. Changes are allowed up to 72 hours before arrival date, based upon availability. Passport is required for all travel including transportation aboard Balearia Caribbean. If cancellation occurs by Balearia Caribbean due to weather or operational reasons and Resorts World Bimini is unable to provide alternative transportation, guests are able to re-schedule their package to next available date or future travel without a penalty. All change of date requests and completion of travel must be done within 1-year (365) days of original booking date, otherwise ticket cost is forfeited. If you or someone you know has a gambling problem call 888-ADMIT-IT