EXCEPTIONAL Restaurants & Bars
Savor an array of tantalizing flavors at any of our restaurants, bars, and cafés.
CUISINE CRAFTED TO PERFECTION Fine Dining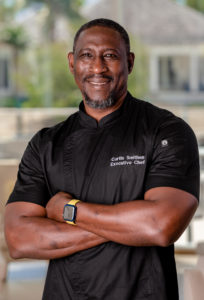 Sit back and enjoy the flavors of the island. Our four diverse fine dining venues are designed to cater to all tastes, offering a wide selection of dishes from around the world. Delight in the culinary masterpieces of Executive Chef Curtis Smithen, who crafted our menus with precision and passion.
Taste the flavors of the island and a wide selection of dishes at The Tides. Feast on Asian specialties at The Sushi Bar. Give your palate a taste of luxury at any of our fine dining venues. Or pair fresh seafood with handcrafted cocktails at the Lobby Bar.
DINE IN TROPICAL EASE Casual Fare
Take your pick from our wide variety of casual dining venues. Whether you're looking for a laidback meal, a caffeine break, a tasty snack, or a Bahamian drink, there's a venue designed just for you. In between games of Blackjack and Roulette, take a break at our sports bar, featuring large screen TVs and gourmet burgers and wings.
If you're lounging poolside, enjoy light bites and libations at Oasis swim-up bar, or Monkey Business. Indulge at the Healing Hole for grilled Bahamian favorites in an open-air setting.
We love food. We live and breathe it. So, let us share the wonder of Bimini's best tastes with you.