When planning a trip to a great luxury getaway property, the choices out there can become daunting. The property after property claims to have the best facilities, the best amenities, and the best deals. Doing your research properly can make or break your vacation. Pick a place that doesn't meet up with your expectations and your week of rest and relaxation can become a huge disappointment. Fortunately, we live in an era of digital reviews from real people who have already been to the places you seek to book. We have very good news if you're headed for The Bahamas – Resorts World Bimini has amassed a large number of very positive feedback from our guests. Here, we'll let our guests speak for us!
BIMINI IS "PARADISE"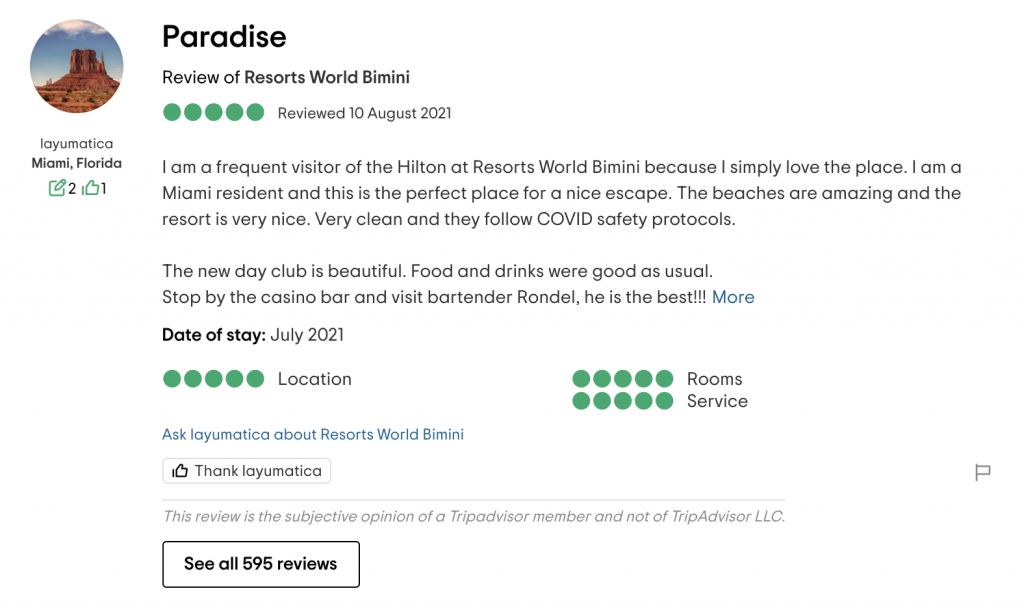 We love it when a visitor is so happy with their Resorts World Bimini experience, that they simply have to come back for more. In their own words: "I am a frequent visitor of the Hilton at Resorts World Bimini because I simply love the place. I am a Miami resident and this is the perfect place for a nice escape. The beaches are amazing and the resort is very nice." Well, if that isn't the greatest praise of all. If a Miami resident who has year-round access to some of the most coveted beachfront spaces in the world thinks our beaches are "amazing," then that's really saying something. But as they say, seeing is believing, so take a look at what you will find by checking out our Resorts World Bimini Beach.
"BIRTHDAY WEEKEND IN BIMINI!"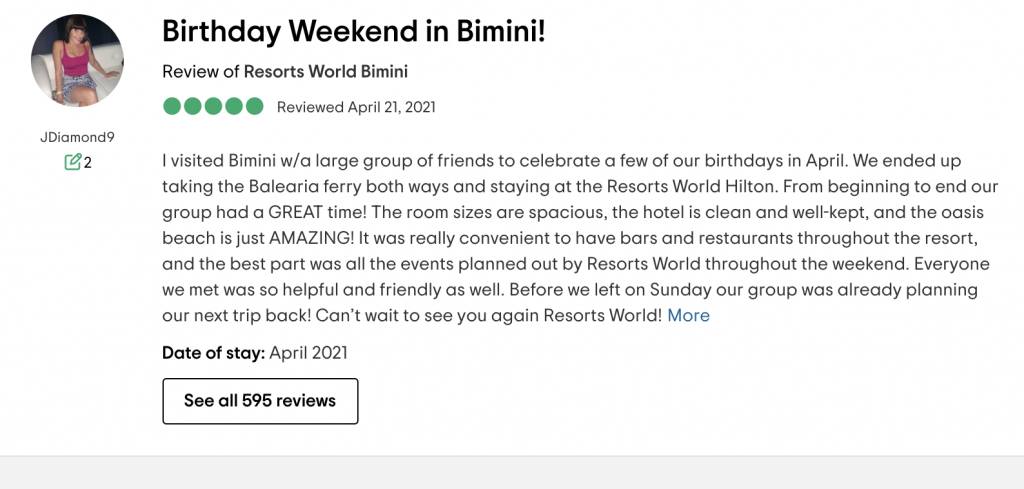 People come to The Bahamas for all sorts of reasons and celebrations rank high among them. Whether you're coming for a wedding, family reunion, or a holiday festival, we are here to serve you and make your fun times memorable. This reviewer came for a birthday weekend: "It was really convenient to have bars and restaurants throughout the resort, and the best part was all the events planned out by Resorts World throughout the weekend." That's right! Our staff is here to help everything go smoothly and orchestrate activities to keep the whole gang happy. Oh, and about those bars and restaurants they mentioned, chew on our food and drink web page for Resorts World Bimini's outstanding eateries and watering holes.
"BETTER THAN EVER!"
We have to admit, we love return customers. That's not only an endorsement of the good time they've had at Resorts World Bimini, but also a testament to the pride our staff takes in providing the very best service at our world-class property. In the words of this more than satisfied visitor: "For sure there's a few name mentions! LaRicca Bartlett and Natasha Golaz were true professional's from the moment we met. They went above and beyond to make sure we were happy and enjoying our time sthere. They took it very personal and were so truly sincere ! I hope they are always at this property. We will definitely continue coming to this property, only next time with less time in between visits! Then there was Franklyn,